U12 Division 2 North Munster League
Our young Limerick Lions White team took on two tough challenges this week. First up they travelled to Newport to play against Glen Cruisers. The boys showed great grit and determination in this close encounter, but the win went to Glen Cruisers on the night.
Then on Saturday they crossed the town to play Limerick Celtics Panthers in Cresent Comprehensive. A tough battle for our boys when they met a more experienced team. Many of our players have only recently taken up the sport and although they are improving every week, Celtics proved too strong for us on the day.
However, there are lots of positives to take from this group of young men. They are committed to training and know that they need to continue to develop their skills and with some experience, the wins will come. Well done guys…..your club is super proud of you all!
Our u13's team had an early start on Saturday morning when they headed off to Cork for a tournament. 17 of the best U13 teams in the country participated in the tournament on the day with some cracking basketball on display.
Our boys faced a tough pool and played Limerick Celtics, Cobh and eventual tournament winners, Eanna. Our boys showed some great skill and got some great baskets and enjoyed their day out. Well done to all the boys and coaches!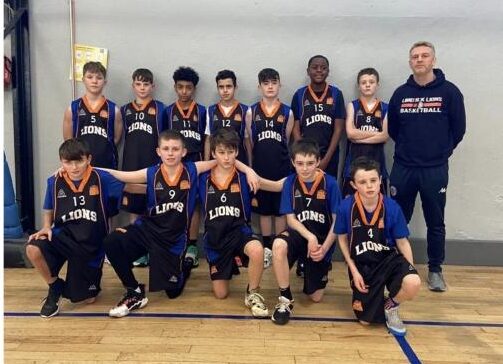 U
1
4
D
iv
is
io
n
2
No
rth
M
u
n
s
ter
L
ea
g
u
e
Limerick Lions Orange v Limerick Celtics Panthers
First up are our Limerick Lions Orange team who took on local rivals Limerick Celtics Panthers. We proved too strong for our neighbours taking a comfortable win.
Limerick Lions 54 – 21 Limerick Celtics Panthers
Limerick Lions White v Nenagh Warriors Red
Our boys took the trip to Nenagh to face off against Nenagh Warriors. Our lads ran the ball very well and all of the boys got plenty of game time and managed to take a convincing win.
Limerick Lions White 57 – 14 Nenagh Warriors Red
U14 Division 1 North Munster League
Our U14 division 1 team also travelled to Nenagh to take on Nenagh Warriors White. A good game by both sides but our boys had speed, physicality and skill on their side and outscored the home team. Well done Lions!
Limerick Lions 60 – 20 Nenagh Warriors White
U16 Division 2 North Munster League
Lions Orange v Limerick Lakers
Our Lions Orange team played Limerick Lakers in St. Munchin's College. A very difficult game for our lads facing a team of much more experienced players. Many of our boys are new to the game, but gave a very good account of themselves. Lakers were too strong for us on the day, but we are showing good signs of improvement. Keep working on your skills and we'll get there.
Lions White v Limerick Lakers
Limerick Lakers then travelled in to St. Clements to play our Lions White team. Our Lions White team are more experienced with many of these players having played at least a couple of years. This was a cracking game going basket for basket and some great basketball on display from both sides. Lakers were a much taller side but David Burke and Kristupas Simkas did a great job grabbing rebounds. Dylan O'Connell was having a great game until an injury put him out early in the second quarter. Some great scores from Sam Taylor and Colm Price, meant that we managed to take the win on the night.
Lions White 42 – 33 Limerick Lakers
U16 Division 1 North Munster League
Our U16 division 1 team faced local rivals Limerick Celtics on Friday at St. Clements. The last time these two teams met, Lions took a convincing win but the same was not to be. Our team were missing a couple of key players due to injury and other commitments and the other players, although they got off to a great start with some fine scores from Harry Smith and Krill Yakolev, we faded mid way through the second quarter and didn't rally in the second half. Hard luck boys!
Limerick Lions 44 – 74 Limerick Celtics