Limerick Lions Progress to the next round of the U20 National Cup.
Limerick Lions took on Dublin Sonics in St. Clements College on Saturday 15th October 2022, in the first round of the under 20 Men's National Cup.
Lions were off to a shaky start when their outside shots weren't dropping and
intense defense from the Dublin Sonic's team forced some errors on our part.
Some crucial scores from Ajay Ryan Walsh kept us in the game finishing up the
first quarter with a score of Lions 18 – 20 Dublin Sonics.
Things didn't improve greatly in the second quarter but Liam Price sank two
important 3-point shots which helped to keep us in a competitive position.
Michael Fahy was very strong on the boards and capitalized on every
opportunity that he got. Score at halftime was Lions 43 – 46 Dublin Sonics.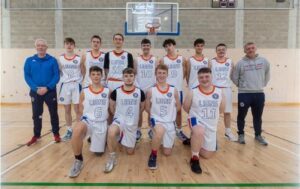 Coach Trevor Moore must have had some strong words in the changing room
during half-time as when the team came back out, they were switched on and
ready to play some decent ball. Reece Barry led the scoring in the third quarter
with 13 points having some good strong drives to the basket. He drew the fouls
and punished Sonics on the free throw line. Tough defense from our lads saw us
get some steals and put Sonics under serious pressure, meaning they only
managed to score 4 points in the 3rd quarter. The score at the end of the third
was much more healthy from a Lions perspective finishing Lions 76 – Sonics
50.
The fourth quarter saw the introduction of Nathan Stanners who obliged by
sinking a lovely 3 point shot and Adam Lengen who gave two beautiful assists
and contributed a lay-up to the tally. Patryk Rejkowcz shot well in the third and
fourth quarter with Danny Shahab adding some nice scores too.
Top scorers in the game:
Liam Price 28 points
Reece Barry 16 points
Michael Fahy & Ajay Ryan Walsh 13 points
Final score:
Limerick Lions 97 – 70 Dublin Sonic