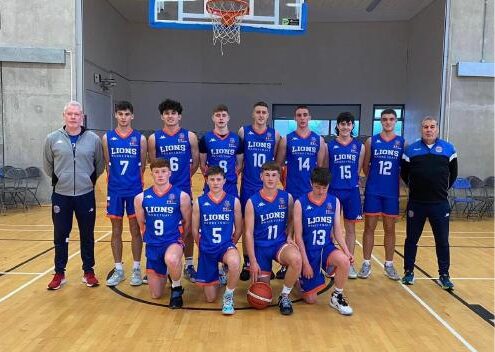 Limerick Lions U18's team travelled to Drogheda on Saturday 5th & Sunday 6th November to compete in the U18 National Cup Qualifiers.

Limerick Lions V Drogheda Wolves
An early start on Saturday morning saw them leave Limerick at 6:00am to arrive for a 10:00am tip off against the home team Drogheda Wolves. Our lads got off to a slow start and the game was tough and physical, the early morning taking it's toll on the boys. Some good strong scores from Danny Shahab and two crucial 3-pointers from Liam Price in the closing minutes of the game meant that the boys just did enough to get the win.
Final Score
Limerick Lions 58
Drogheda Wolves 51

Limerick Lions v Kilkenny Stars
The lads had to dust off their sore bodies and face Kilkenny Stars. Our lads proved too strong for Kilkenny and all of the lads got plenty of minutes on the court with some great scoring from Diarmuid O'Donoghue and Fionn O'Meara. Patryk Rejkowicz was strong under the boards and when fouled, punished Kilkenny on the free throw line. A strong win for the Limerick lads.
Final Score
Limerick Lions 68
Kilkenny Stars 30

Limerick Lions v Corrib
The third and final game of Saturday was against Corrib. Corrib has suffered a couple of injuries in earlier games and so were in for a tough battle against a large Lions squad. Corrib started out strong, staying with the Lions basket for basket in the first quarter. But the second quarter was a different story. Their legs got tired while the Lions were able to rotate players so fresh legs of Adam Gomes, Kirill Yakovlev and Sean O'Connell piled on the defensive pressure. This was a game where the young guns of Darragh Horkan and Krill Yakovlev shone bright with a tally of 25 points between them.
Final Score
Limerick Lions 75
Corrib 54
Topping the group on Saturday meant that we faced the runners-up from Pool B on Sunday in the semi-final. We faced some more local lads, Dundalk Ravens.

Semi- Final – Limerick Lions v Dundalk Ravens
We faced another physical game on Sunday morning against a big Dundalk Ravens team. It was close in the first and second quarter but then our boys found their rhythm and just started popping in scores from everywhere. Sean Morrissey was unstoppable when driving to the ring in this game. Michael Fahy had a very strong, solid game doing a fine job guarding really big players and earning himself 11 points under the boards.
Final Score
Limerick Lions 87
Dundalk Ravens 54

Final – Limerick Lions v Tralee Magic
Tralee Magic had topped their pool on Saturday and had a tough battle against Drogheda Wolves on Sunday in their semi-final, coming away with a 4-point win. Lions felt that this could be a tough and a close game, but this was not to be. Lions started strong, defending well and storing with ease. Lots of minutes for the boys coming off the bench. Adam O'Rourke travelled up on Sunday and was rewarded with a good game. Another great performance from the Lions and another great win.
Final Score
Limerick Lions 87
Tralee Magic 50