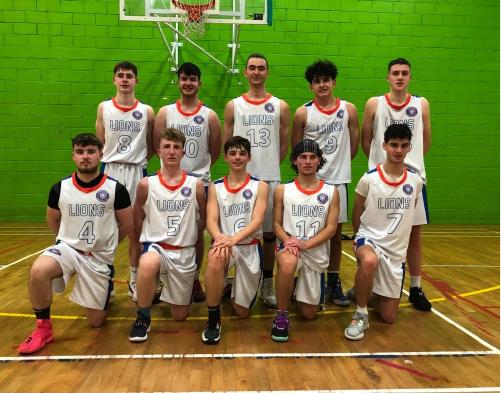 What a season 2022/23 is turning out to be for Limerick Lions!
First our U18's battled and secured a spot in the quarter finals of the National Cup and now our U20's have done the same!
On Friday 11th November the lads faced Portlaoise Panthers in TUS. The game started off slowly with our lads a little sluggish. However there were some super scores from Ajay Ryan Walsh in that quarter. The introduction of Michael Fahy in that quarter saw him go to the basket, score and pick up the foul along the way, which he capitalised on. The first quarter was too close for comfort with the Lions a point down at 22-23.
In the second quarter the boys stepped up a gear and there were some magical scores with Reece Barry hitting four 3-pointers with ease. Our defense was strong and Portlaoise found it difficult to penetrate to the basket with some great blocks from Danny Shahab. Alfie McCoy was very strong on the point despite pressure from Portlaoise. Half time saw the score in Lions favour at 55-35.
The third quarter was basket for basket and some great displays of basketball from both sides. Portlaoise Panthers had some super outside shooters which we struggled to contain at times. A couple of great dunks from Ajay got the team buoyed up and Danny Shahab and Liam Price assisted with the scoring in this quarter.
The last quarter again Lions stepped up a gear. Brought in the new legs of Alan Fitzgerald, Adam Lengen, Roman Tomac and Patryk Rejkowicz who scored a super 3-point shot, and their energy on defense proved too much for Portlaoise. Lions comfortably took the win.

Final Score
Limerick Lions 93 – 69 Portlaoise Panthers

Top Scorers
Ajay Ryan Walsh – 24 points
Liam Price – 22 points
Reece Barry – 21 points