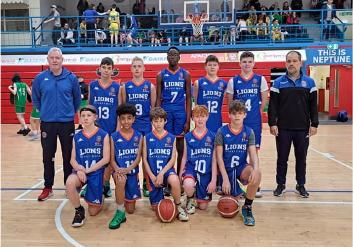 Our U14 team travelled to Cork this Saturday to compete in an open tournament organised by the Cork Area Board.
Sixteen teams from all over Ireland competed for a coveted place in the final.
What a day for our boys!
The boys first game was against Fr. Matthews of Cork. We built up a good lead and this game went our way, except for the unfortunate loss of Charlie Clifford in this game due to a rolled ankle. We knew that we were going to miss Charlie's tough defensiveness going forward in the tournament.
However, we went on to win all four of our pool games, beating, Fr. Matthews, Baltinglass Bulldogs, St. Brendan's and Templeogue.
This put us into the semi-final against St. Mary's from Castleisland. This was a close and tough contest but our boys came away with a win and a coveted place in the final.
Meanwhile our local rivals, Limerick Celtics had also reached the final having won three of their pool games and beating UCD Marian in their semi final.
We had a right battle with Celtics in the final with the lead changing over and back several times. We were up by 4 points with 3 minutes to go, but then it was like someone stuck a pin in us and we lost energy, losing the game 48-42.
Head Coach, Trevor Moore was so proud of the boys. "They played fantastic basketball all day and are a credit to our club".
What a super achievement and what a positive sign for Limerick basketball to see two Limerick teams reach the final of a tournament with the top teams in the country. The future is looking very bright.